RAYXPERT SOFTWARE SOLUTION
DEVELOPED BY TRAD TESTS & RADIATIONS
3D MODELING AND CAD IMPORT
The interface allows to quickly realize realistic 3D modeling , on the one hand by combining simple solid shapes, and on the other hand by importing 3D CAD models made from standard CAD software (CATIA, SolidWorks, Pro -E, AutoCad, etc…).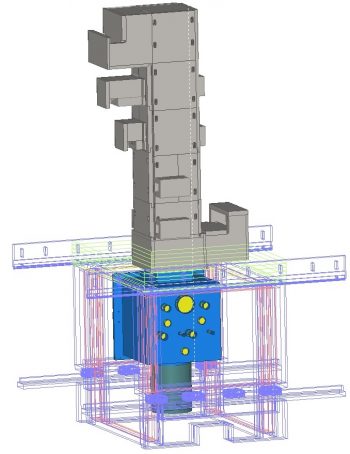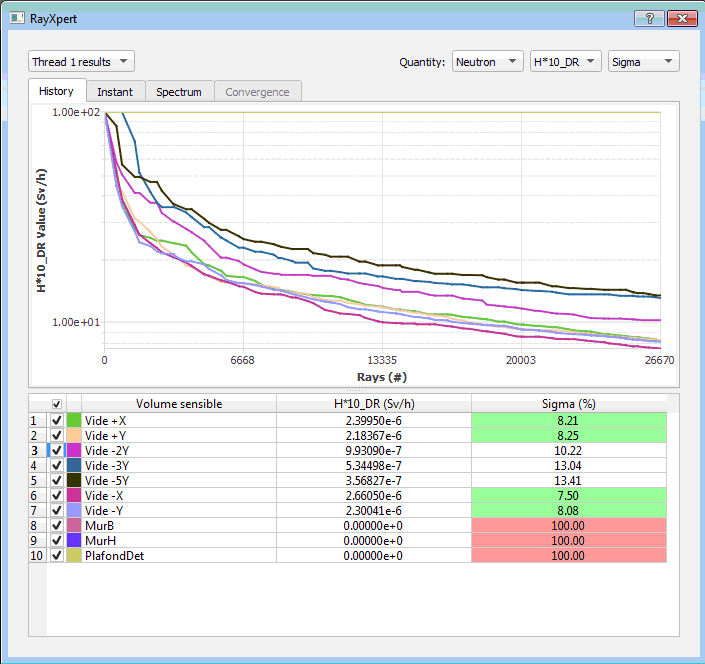 DOSE CALCULATION BY MONTE CARLO
Particles in the a 3D structure are monitored using the Monte-Carlo method. The management of physical processes for particle-matter interactions was programmed based on the physics processing of GEANT4, but entirely redeveloped by TRAD Tests & Radiations since the 2000s.
This function gives access to the dose rate calculation in a 3D scene with composed sources of isotopes emitting photons (gamma and X-ray), electrons (line and Beta spectrum), positrons (line and Beta + spectrum) and Neutrons (optional) and / or sources of radiation emitted by devices.
Convergence indicators have been implemented in RayXpert®. Each calculated quantity (energy, total dose, H * 10 dose, etc.) is associated by a series of indicators to best estimate the level of convergence of the results by giving information on the evolution of the result and of the sigma during the simulation.
INTEGRATED MATERIALS AND RADIOELEMENTS LIBRARIES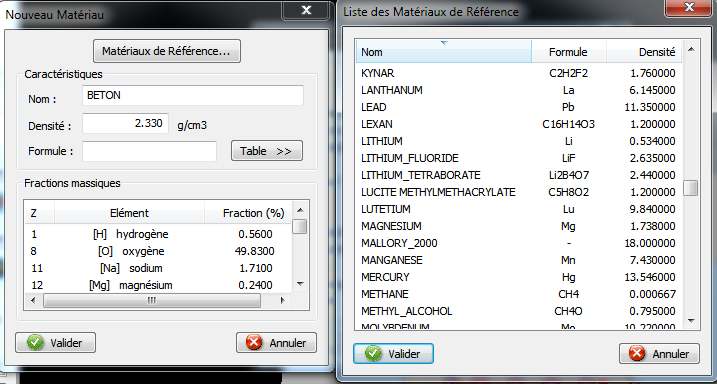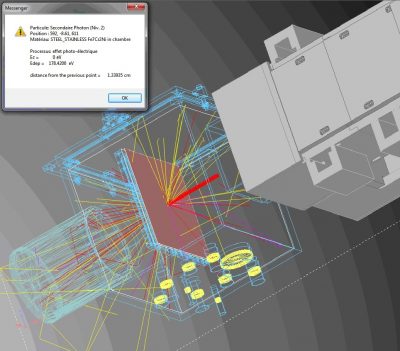 RADIATION GENERATOR
Continuous spectra of electrons, photons and neutrons simulate the transport of particles from devices emitting radiation. A large number of types of sources are accessible both for geometric shapes (volumes, surfaces, circular, conical, square beams…) and for spectrum types (mono-energy or user-defined beams, histograms…).
3D MAPPING
3D mapping is a feature that automatically creates a virtual mesh of detectors in the geometry and thus provides some 3D visualization of dose rates, flows and deposited energies; for photons, electrons, positrons and neutrons (optional module).
This function also makes it possible to merge several mapping relating to the same model and to display the different radiological zones according to a legal Zoning which is directly integrated into RayXpert.
A conditional display is available in order to, for example, filter with one click on a type of particle or on all the results having a sigma lower than X%.
.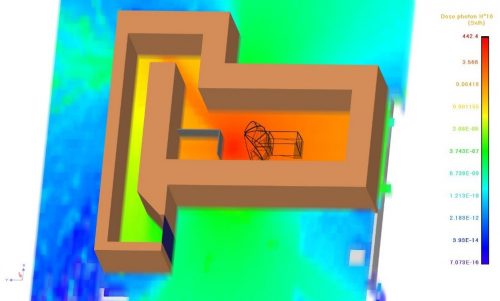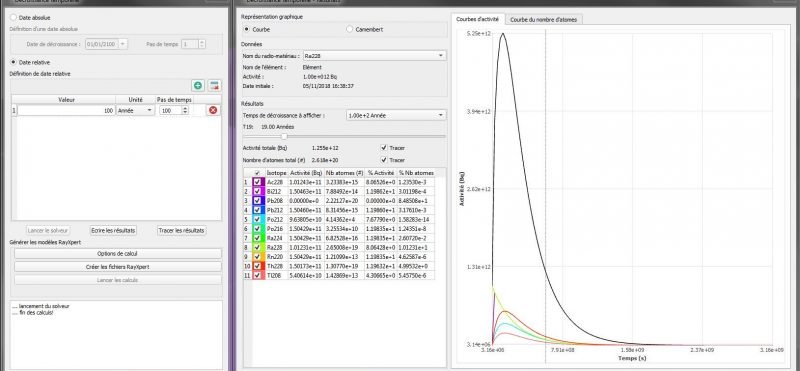 TIME DECAY CALCULATION
RayXpert® allows to calculate the evolution of the activity of radio-materials over time. This is made possible by solving Bateman's equations, governing the evolution of populations of radioactive nuclei. The temporal decrease makes it possible to determine the concentration and the activity of a radioactive source at an instant T.
This menu takes into account the temporal aspect of the decrease with an interface allowing to specify several time steps. The results are displayed by graphical representations in the form of a "curve" or "pie chart". This module being directly integrated into RayXpert®, it allows to automatically generate RayXpert calculation models for each time step, in order for example to simulate zoning at different time steps.
SCRIPT
A scripting language similar to JavaScript has been integrated into RayXpert® to meet the customization needs of our customers.
It allows the user to take advantage of many features of the software or manipulate the interface without interacting with the dialog boxes.
The field of possible actions is very wide and allows to automate almost all the available functions, from the construction of the model to the launching and postprocessing of calculations through the creation of graphical interfaces.
Example of applications: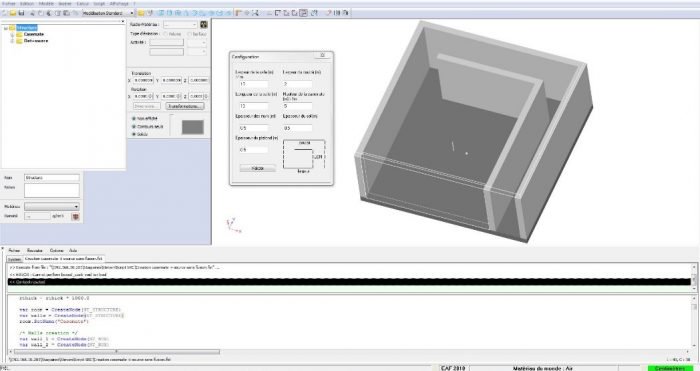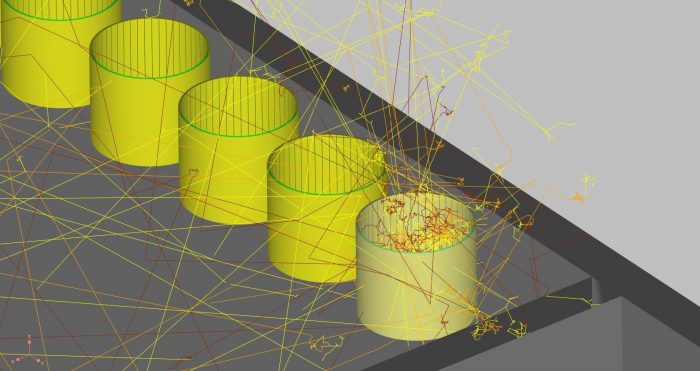 NEUTRONS MODULE
(option)
TRAD has implemented neutron physics in the RayXpert® code, based on nuclear data from ENDF / B-VII. The physical models are validated between 10-11 and 20 MeV.
The problems addressed extend from thermal neutrons, of the nuclear industry type, to the fast domain, of the D-T fusion installation type.
MULTI-SOURCES AND MULTI-DETECTORS
Several sources and detectors can be defined simply and simultaneously. Fully automated biasing is proposed to accelerate the convergence of results in the case of complex geometries. The results are the equivalent dose rates and the photon (or other particules) fluxes at the detector levels. It is also possible to calculate the absorbed dose by electronic components.
A calculation tracking window allows you to control, during the simulation, the dose rate value and its margin of error for each detector.
DISTRIBUTED CALCULATION (optional)
As standard, RayXpert can use up to 64 computational cores. TRAD has optionally developed a distributed Monte-Carlo calculation module allowing the use of Windows or Linux calculation clusters and thus considerably speed up calculation times. The user can also continue to use RayXpert®, create new models, etc. while leaving an unlimited number of calculations running on the cluster.
This module allows our customers to use external clusters of calculations, configured by us.
You may also ask us directly to run your calculation on our super-calculator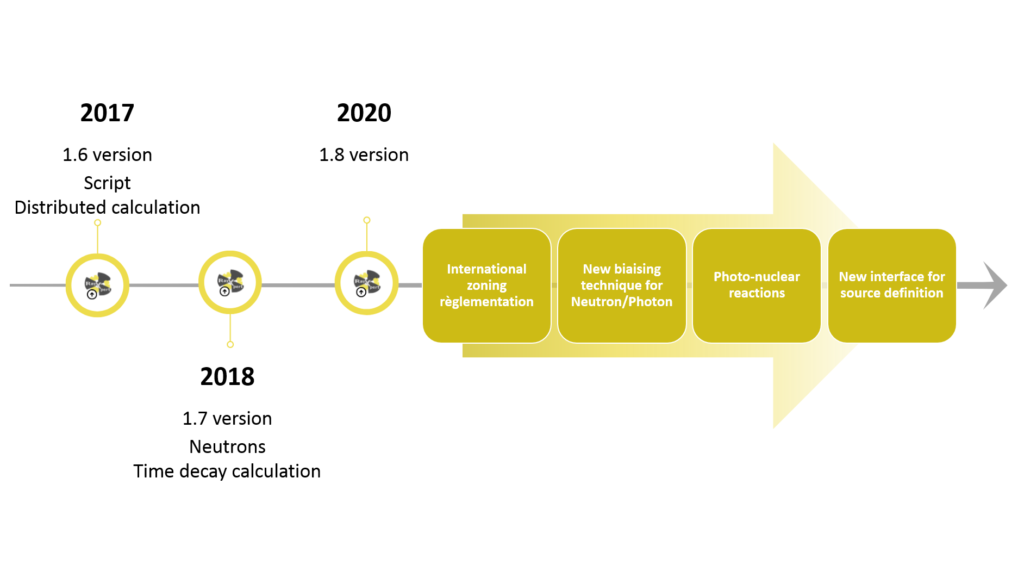 EXAMPLES OF TECHNICAL PREREQUISITES FOR USING RAYXPERT UNDER THE BEST CONDITIONS.​
Desktop PC :
Windows 11, 64-bit
1 Intel i9-10885H 8-cores until 5,3GHz
16 GB of memory
NVIDIA graphics card (for heavy 3D model design)
Dedicated PC :
Windows 11, 64-bit
1 Intel Xeon 8268 – 2.9GHz,3.9GHz Turbo, 24 core processor
64-96 GB of memory 
NVIDIA graphics card (for heavy 3D model design)
As standard, RayXpert can use up to 64 calculation cores. With the distributed license, there is no limitation.
Otherwise, we also offer calculation services for you to benefit from our supercomputers